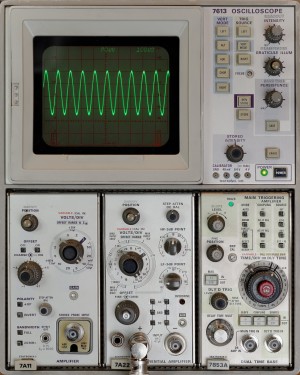 Tektronix 7613 Storage Scope (→Full Size)
(Click images to enlarge)
Link: TekWiki: 7613 (with more photos)
Manual: BAMA: 7613 Service Manual Oct 1974

What this unit can do (once it works as it should) can be seen in this screen shot — note the units, 20 μV/div and 5 s/div! Using an HP3325A, about two periods each of a sine, triangle and square wave signal at 0.1 Hz(!) were generated. Using the generator's lowest output amplitude and an external 20 dB attenuator gives signals of about 0.1 mVp-p. This screen shot covers a time span of almost one minute!
The Tektronix 7613 is an analog storage oscilloscope from Tek's 7000 series that has three plug-in bays and a bandwidth of 100 MHz. It was made from the early 1970s to about 1990. Storage persistence is variable. Stored images can be protected against overwriting and remain visible for up to an hour.
This scope arrived in a rather sad, but not hopeless state. At least the beam was visible, even though storage mode produced only wild flickering. There was no readout on the left plugin bay, redout digits were badly distorted, and above all, the beam got only shorter but not slower on sweep settings over 1 ms/div!
I had bought this unit "blind" based on photos (unpowered) — no risk, no fun! The attraction was in the storage function and the 7A22 differential amplifier plug-in that was included. Well, at least no total write-off!